We offer incredible Cape Buffalo hunting adventures in some of the wildest and least developed country remaining in Africa pursuing the legendary Black Death.
We currently have openings in March, May, September, October, and November 2024 as well as most months during the 2025 hunting season. Contact us for details. 
Why should I hunt Cape Buffalo with you? If you've always dreamed of a true African hunting adventure like the ones you read about in Outdoor Life and Sports Afield, then you'll have the trip of a lifetime on a Cape Buffalo hunting safari with us. We offer authentic, fair chase Cape Buffalo hunting safaris in the beautiful, but unforgiving South African bushveld.
The Cape Buffalo is known by many names like Black Death, Mbogo, and Nyati. Regardless of what you call him, we hunt this tough and formidable creature in western Limpopo Province near the border with Botswana. This area is located in one of the least developed areas left in South Africa and has that "wild Africa" feel. In addition to hunting in such a remote and very isolated area, our hunters get to see herds of antelope roaming the countryside, crocodile and hippo in the river, and hear the sounds of jackals at night. So, not only is the hunting fantastic, but it's also a great place for you to see a side of Africa in a manner that few other outfitters can provide.
We are not a high volume outfitter and instead focus on providing a limited number of high quality hunts. Since we book a limited number of buffalo hunts each year and only take one hunting party at a time, we're able to ensure that all of our hunters receive exceptional service with lots of individual attention. You will not be sharing camp or the hunting area with people you do not know.
Additionally, we do not use outside Professional Hunters (PHs). You will be guided by a knowledgeable, friendly, and experienced PH who is intimately familiar with the hunting area and who has safely and successfully guided many Cape Buffalo hunts.
For these reasons, we have high success rates and our hunters consistently take nice buffalo. We have a 100% success rate on mature buffalo bulls with a hard boss over the past four years. Our lifetime success rate on Cape Buffalo hunting safaris is over 90%. Our hunters typically take a cape buffalo trophy with a hard boss and an outside spread in the 37-41″ range.
Not only is our hunting area in located right in the heart of some of the best Cape Buffalo hunting in South Africa, but it is also close enough to Johannesburg that no charter or follow-on airline flights are necessary to reach camp.
Due to all of these factors, we can provide a challenging, but rewarding and exciting Cape Buffalo hunting experience that few other outfitters can compete with. Dreaming of a once in a lifetime opportunity at matching wits with one of the most feared of members of the Big Five in the South African bushveld? Are you a serious hunter who wants a serious hunting adventure? Then book one of our Cape Buffalo hunts.
Continue reading to learn more about our incredible Cape Buffalo hunting in South Africa.
Cape Buffalo Hunting Itinerary
Day 1: Your Professional Hunter will meet you at O.R. Tambo International Airport in Johannesburg in the arrivals hall immediately after you clear passport control and customs. If you brought your own rifle, we will have a pre-approved rifle import permit ready and he will help you retrieve it from the police office in the airport.
You'll then head straight to camp. Depending on what time you arrive, we'll stop for breakfast/lunch/dinner or snacks as necessary during the drive. Time permitting, we'll make a quick stop at the range to check your rifle and potentially hunt that afternoon/evening.
Days 2 through 6: These days are completely dedicated to hunting Cape Buffalo in the bushveld. Aside from a few rocky outcroppings, the terrain in this part of the bushveld is mostly flat and consists of thickly wooded savannah forests of Baobab, Mopani, Marula, Camelthorn, and countless other trees. This area supports large and diverse populations of many different big game animals and is generally regarded as one of finest hunting areas in southern Africa.
A normal day on one of our Cape Buffalo hunting safaris normally begins early in the morning when the hunters wake up and eat breakfast, which consists of coffee, rusks (a hard, dry biscuit), cereal, and juice. Generally, the hunters, PH, and trackers leave camp around sunrise in a 4×4 vehicle carrying a cooler full of drinks and snacks.
We can accommodate hunters with a wide range of physical abilities, but this is a challenging hunt and hunters should be in good physical condition and capable of walking several miles over the course of a day for best odds of success. We primarily hunt on foot by tracking and/or via spot-and-stalk.
Depending on how things go, hunters may eat lunch in the bush during a break from the hunt, or they may return to the main camp to eat. The hunt then continues until dusk, when the hunters return to camp for dinner and to prepare for the next day!
This part of the country is renowned for having some outstanding plains game hunting (the kudu, wildebeest, and impala hunting in particular are phenomenal) and you are welcome to take additional animals if you so desire at our normal trophy fees.
Species available on our Cape Buffalo hunts: Blue Wildebeest, Blesbok (Common & Saddleback), Bushpig, Bushbuck, Cape Buffalo, Duiker, Eland, Gemsbok, Giraffe, Impala, Klipspringer, Kudu, Monkey, Nyala, Porcupine, Red Hartebeest, Sable, Steenbok, Warthog, Waterbuck, and Zebra
Cape buffalo cows may be added to any of our hunts for a $3,500 trophy fee.
Hunts for other game like crocodile, hippo, lechwe, and roan can be arranged as well, but require advance notice.
Day 7: At the end of the hunt, you'll eat breakfast in camp and then your PH will drive you back to Johannesburg. We can also take you souvenir shopping on the way to the airport and eat lunch in the city. Your PH will assist you in checking your bags and rifle (if you brought one). He will stay with you until you successfully make it through the security checkpoint.
South Africa Cape Buffalo Hunting Packages
South Africa Cape Buffalo Hunting Package
7 Days (6 Nights) Accommodation
1 Cape Buffalo Bull
$14,700 Per Hunter (1×1)
$14,400 Per Hunter (2×1)
$1,475 Per Non-Hunter

South Africa Cape Buffalo/Sable Hunting Package
8 Days (7 Nights) Accommodation
1 Cape Buffalo Bull & 1 Trophy Sable
$20,135 Per Hunter (1×1)
$1,655 Per Non-Hunter

With their long and spectacular curved horns, sable are another one of Africa's most desired trophy animals right up there with buffalo. Fortunately, this Africa hunting package is an excellent opportunity to hunt both sable and buffalo on the same trip at a discount. This hunt also takes place on our hunting area in the bushveld of western Limpopo Province and there are good prospects for a taking 40″+ sable bull on this hunt. This package includes the trophy fee for a trophy cape buffalo bull and a sable.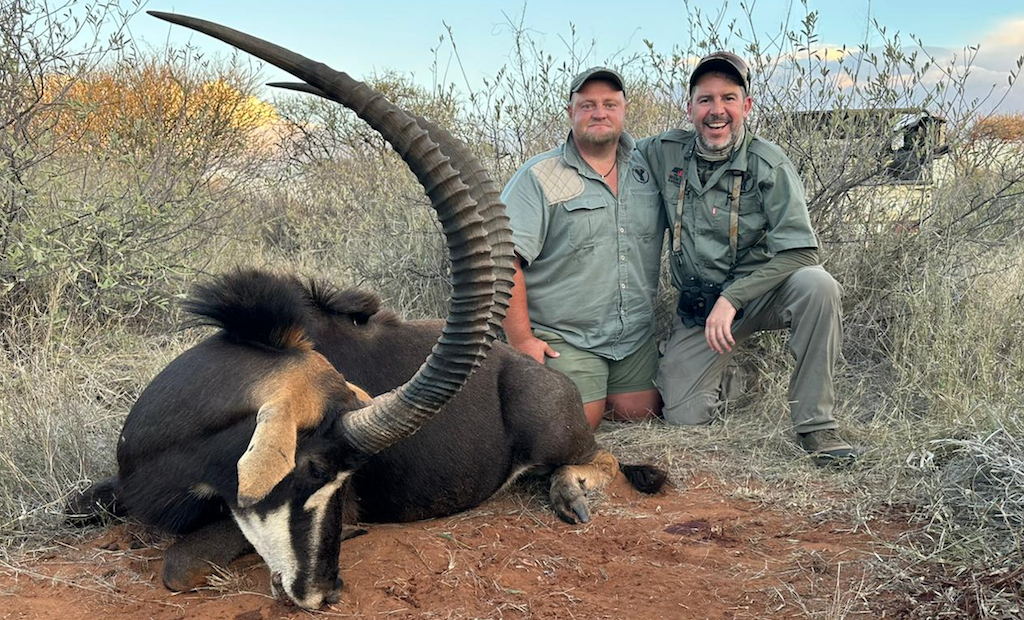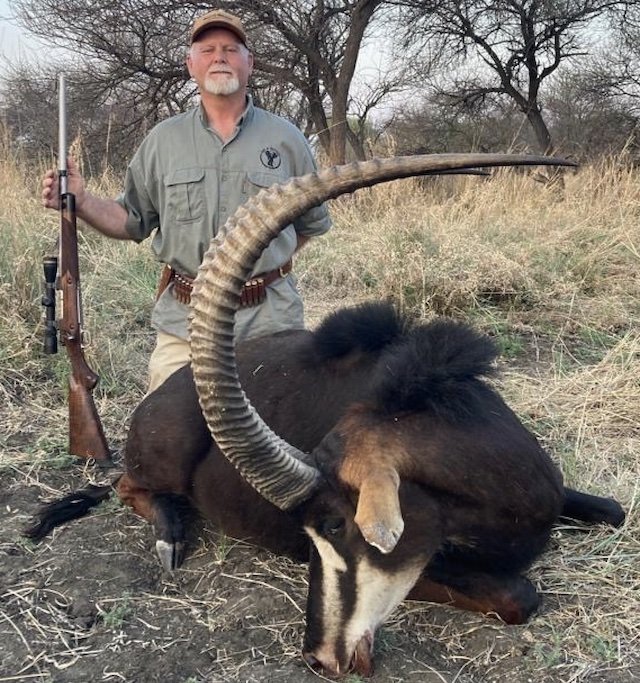 South Africa Cape Buffalo Cow Hunting Package
7 Days (6 Nights) Accommodation
1 Cape Buffalo Cow
$6,775 Per Hunter (1×1)
$6,585 Per Hunter (2×1)
$1,475 Per Non-Hunter
We also offer a limited number of hunts for cape buffalo cows, which are a more affordable way to hunt cape buffalo than targeting a trophy bull. Specifically, we're targeting older, post-breeding age cows without calves on these hunts. These old cows have been around the block a few times and are as formidable of an adversary as a bull. Indeed, approaching a buffalo herd in the thick bush and evading all those eyes, ears, and noses to identify and shoot an older female without a calf is an experience you won't forget!
This package includes the trophy fee for a cape buffalo cow.
For hunters that do not wish to bring their own rifles, we have scoped rifles chambered in .375 H&H and .375 Ruger available for our clients. We provide use of the rifle and ammunition suitable for hunting Cape Buffalo at no extra charge.
For more information on our Cape Buffalo hunts, check our our Africa FAQ page.
South Africa Wing Shooting Fees
Pigeon, Dove, Guinea Fowl, Crested Francolin, Sand Grouse, White Faced Ducks
$355 Per Hunter, Per Day
$25 Per Day Shotgun Rental
$12 Per Box of Shells
Our primary hunting areas have some fantastic bird hunting opportunities and you're welcome to add a day or two of wing shooting onto a plains game and/or buffalo hunt. In particular, our main camp has healthy populations of pigeon, dove, and guinea fowl year round. Other species are migratory.
Depending on the exact time of year and exact bird species we're hunting, this can range from sitting on the edge of a field pass shooting doves and pigeons as they come and go (in flocks of dozens and hundreds) to some sort of beaten hunt for other birds using people and/or dogs. There's good bird hunting all year round, but there are definitely seasonal peaks. The months of May, June, July, and August tend to have really good hunting for a variety of bird species. Contact us for more details on adding some wing shooting to your hunt.
Professional Video Service
$295 Per Day
$2,065 for a 7 day hunt
$2,360 for an 8 day hunt
$2,950 for a 10 day hunt
Want to relive your once in a lifetime hunt and/or share the experience with friends/family when you return home? If so, then you'll definitely want to book the services of our videographer. He'll go out hunting with you each day, film the events of your trip, and then build a video of the entirety of your hunt. He'll do all the editing in camp and will provide a USB flash drive with the completed video on your departure day for you to take home with you.
Videos are normally 40-60 minutes long and tell the story of your full experience: the hunt itself, camp life, especially interesting encounters with wildlife, etc. You're also welcome to make special requests of him while you're there. Contact us for more details on booking a videographer for your hunt.
Cape Buffalo Hunts Include:
Trophy Fee(s) for specified animals
Accommodation, food, and beverages for specified number of days
Exclusive use of the hunting area
Services of a licensed Professional Hunter
Pre-Approved firearm import service or use of one of our rifles with a reasonable quantity of ammunition
Meet & Greet at airport
Transportation between Johannesburg International Airport and hunting area
Reasonable quantity of alcoholic beverages
Laundry service during the hunt
Skinning and field preparation of trophies
Delivery of trophies to a Gauteng based taxidermist and shipping company
Cape Buffalo Hunts Do Not Include:
Gratuities for staff members
Taxidermy fees
Transport of trophies outside of South Africa
Airline tickets
Personal, Travel and Trophy insurance
International calls from cell phones, or landlines
Why Should I Book A Cape Buffalo Hunting Safari With You?
We hunt in one of the least developed parts of South Africa and the area still has that "wild Africa" feel with leopard preying on the antelope that roam the countryside, crocodile and hippo in the river, and the sounds of jackals at night. So, not only is the hunting fantastic, but it's also a great place to see a side of Africa that few other outfitters can provide.
No hidden costs: our South Africa cape buffalo hunting safaris include everything except for your air fare, taxidermy, and shipment of your trophies.
We are not a high turnover outfit. Instead, we focus on providing quality hunts with the best possible experience for each guest. For that reason, we only book one hunt at a time. Instead of sharing the area with people that you don't know, you'll have the whole place to yourself. This allows us to give you our full attention and ensure that you receive VIP treatment on your hunt.
We'll pick you up at O.R. Tambo International Airport in Johannesburg. So, unlike a hunt in Botswana, Mozambique, Namibia, Tanzania, Zambia, Zimbabwe, or the Eastern Cape of South Africa, no follow on airline flights or plane charters to places like Harare or Port Elizabeth are necessary if you book a South Africa hunting package with us.
If you want to bring your own rifle, we'll get a temporary import permit for you and help you with all the paperwork involved at no extra charge. So, there is no need to go through the hassle of importing your rifle on your own without assistance or pay an additional $200-300 to another company for their help with this.
We book a limited number of hunts each year, abide by strict quotas, and carefully manage our hunting areas. This ensures that our hunters have high success rates and take the best quality trophies possible.
Our Professional Hunters (PHs) are friendly, knowledgeable, and have many years worth of experience guiding plains game and dangerous game hunts.
We take pride in providing authentic cape buffalo hunts with outstanding personal service before, during, and after your hunt. You will not have problems getting in touch us when and we'll be available to you through the entire process to provide assistance with anything you need related to the hunt.
We strive to provide high quality, all-inclusive cape buffalo hunting safaris with no hidden costs. Not every outfitter prices their hunts in this manner.
This is a veteran owned and operated business and we plan all of our African safari hunts with military precision and attention to detail.
For more information on our Cape Buffalo hunts, check our our Africa FAQ page.
What Are The Accommodations Like On An Cape Buffalo Hunting Safari?
Our hunters stay in individual chalets wired with 220v electricity and equipped with air conditioning. Each chalet is kept in pristine condition and has a private bathroom. Camp also features a fully stocked bar, an outside dining area, and an outdoor fire pit.
What Is The Food Like On A Cape Buffalo Hunting Safari?
Regardless of whether you're visiting from the USA, Canada, Europe, Australia, New Zealand, or Asia, excellent food is really a point of emphasis for us on our South Africa Cape Buffalo hunting safaris and we take great pride in serving delicious meals prepared from the game taken on the hunt. All meals are prepared on site by our professionally trained chef and consist of a combination of authentic South African cuisine and wild game.
Meals feature lots of meat, vegetables, and fruit and are accompanied by fine South African wines specifically chosen to compliment the meal. After a hard day of hunting, you'll get a chance to relax and unwind with a sundowner and snacks around the fire pit before dinner while you rehash the day's experiences and talk about tomorrow's plans.
Yes, you will absolutely get the chance to eat your Cape Buffalo (and any other species you successfully hunt) during your safari if you so desire.
What Happens If I Don't Take A Buffalo?
Our lifetime success rate on our Cape Buffalo hunting safaris is over 90% and the vast majority of our hunters take a trophy buffalo each year. However, since we do practice fair chase hunting, nothing is guaranteed and hunters do occasionally fail to take an animal they were after. So, if you do not end up taking a Cape Buffalo on your hunt, you will not be charged the trophy fee ($9,000). The same goes for hunters who book a buffalo/sable combination hunt and do not take a sable ($5,000). That being said, while we will make every effort to recover all animals wounded during our hunts, any animal wounded and not found will be charged full price.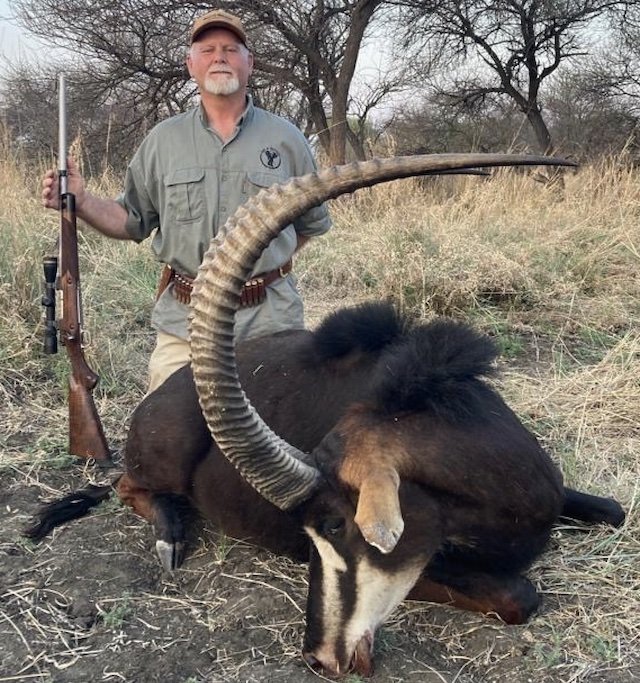 Can I Bring A Friend/Family Member Along Who Doesn't Want To Hunt?
Sure! Our facilities in South Africa are all very comfortable and non-hunting guests are welcome in camp. A large number of our hunters bring along friends and/or family members who are not interested in hunting, but still want to enjoy seeing what Africa is like. For this reason, non-hunting guests are welcome to accompany the hunters on safari each day and we are happy to arrange a game drive, photographic safari, other wildlife viewing opportunity for them.
We can also organize other activities like hot air balloon rides, wildlife viewing, photo safaris, trips to Kruger National Park, or visits to nearby tourist attractions. Contact us for pricing on these additional activities.
 When Is Best Time Of Year For Cape Buffalo Hunting?
We hunt Cape Buffalo all year long. However, the dry season typically runs from April through October, making those months the ideal times to hunt Cape Buffalo. These months generally have the most pleasant weather and are usually the most popular months for Cape Buffalo hunting.
What Is The Best Caliber For Cape Buffalo Hunting?
The Cape Buffalo is a very tough and formidable game animal that must be treated with respect. These are dangerous animals after all. For that reason, we recommend using a rifle chambered in .375 H&H or .375 Ruger at a minimum when hunting Cape Buffalo. Using high quality bullets, these calibers will do the job on even the biggest buffalo with proper shot placement. An old bull is a wary and tough, but not invincible or bulletproof creature. However, if you feel comfortable shooting bigger calibers like the .416 Rigby and .458 Lott and can place your shots appropriately, then by all means hunt with that rifle.
When hunting Cape Buffalo, we advise loading a soft-nosed, controlled expansion bullet for the first shot, followed by non-expanding bullets for follow-up shots. With this in mind, we recommend bringing 20 premium soft point bullets along with 20 quality non-expanding bullets (solids or FMJs) for whatever rifle you intend to use.
Since we make every effort to get as close as possible, virtually all of our buffalo hunters take shots at 50-80 yards (though sometimes closer). At these ranges, low magnification scopes (like a variable 1.5-6x) work best.
Cape Buffalo have a well deserved reputation for being extremely aggressive and tough. Indeed, Robert Ruark did a great job summarizing how many people feel about hunting Cape Buffalo in his book Horn of the Hunter:
I don't know what there is about buffalo that frightens me so. Lions and leopards and rhinos excite me but don't frighten me. But that buff is so big and mean and ugly and hard to stop, and vindictive and cruel and surly and ornery. He looks like he hates you personally. He looks like you owe him money. He looks like he is hunting you…He makes me sick in the stomach, and he makes my hands sweat, and he dries out my throat and my lips.
You shouldn't be afraid of cape buffalo, but you should absolutely treat them with respect. Bring a quality rifle that you've practiced shooting extensively, use premium ammunition, and be knowledgeable about shot placement.
What Is The Best Recommended Cape Buffalo Shot Placement?
Shot placement is extremely important when hunting Cape Buffalo. If you are using a powerful enough rifle and place your shot properly, the buffalo will not run far at all and will expire surprisingly quickly. However, there is a saying among professional hunters in Africa that if you mess up your first shot, the next dozen will serve no purpose other than to make the buffalo even angrier. Cape Buffalo are extremely tough and can be quite dangerous when wounded, so place your shots with care.
The traditional shoulder shot on a Cape Buffalo is almost always the best shot placement. When the buffalo is standing broadside, simply aim at the center of the shoulder, approximately one third of the way up the body. A shot placed as indicated will hit the lungs and the top of the heart. Even an animal as tough as a buffalo will not go far after being hit like that.
Quartering shots when hunting Cape Buffalo can be tricky. If the buffalo is quartering towards you, aim slightly forward of the shoulder. However, be extremely careful with quartering away shots. A buffalo's liver is located on the right side of the body. So, an initial shot on a buffalo that is quartering away shot should only be taken if the buffalo's right side is facing the hunter. If placed properly, these shots can be devastating on a buffalo. In this case, aim slightly behind the shoulder.
However, quartering shots on the left side should never be taken. There is too great of a chance of the bullet hitting the stomach and failing to penetrate further, which is exactly what you do not want. We do not recommend taking a frontal chest shot when hunting Cape Buffalo.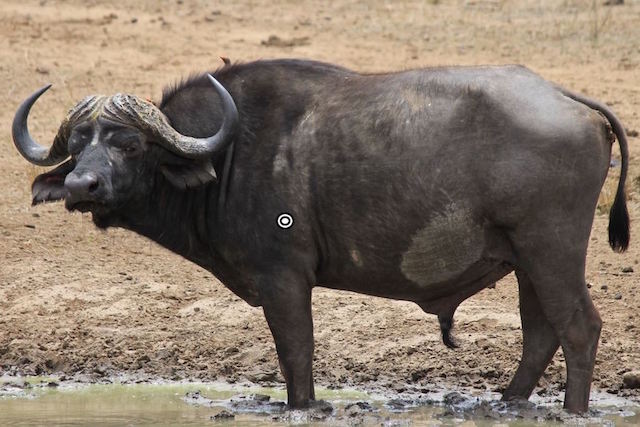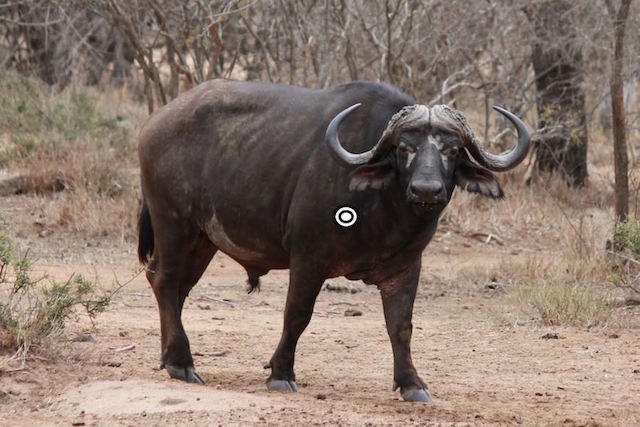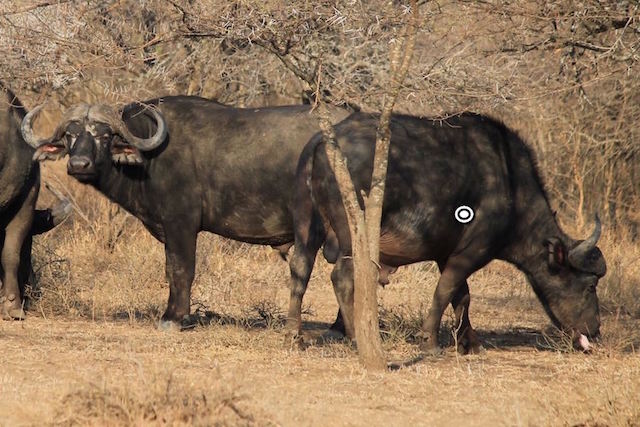 To learn more about booking an incredible Cape Buffalo hunting adventure in South Africa, simply click the "Get More Information" button below. You'll be taken to a contact form on the next page where you can enquire about availability for particular dates and ask any questions you may have about our Cape Buffalo hunting safaris.