Tired of fighting crowds on public land? Afraid you'll never draw a high quality Elk tag? Consider going Elk hunting in New Zealand instead. We offer a high quality Elk hunting experience on foot in some of the world's most beautiful Elk country.
Update January 2023: New Zealand was closed to tourists from most countries for all of 2020 and 2021 as well as most of 2022 due to COVID. So, we still have a gigantic backlog of rescheduled hunts that we're working through. For that reason, we're not booking any new hunts or responding to any enquiries about hunting in New Zealand in the future until we get that cleared up
Why should I hunt Elk with you? Believe it or not, you can get a great Elk hunt in some stunning country without having to buy an OTC tag and fight the crowds in Colorado, Idaho or Montana, wait years and accumulate enough points to draw a quality elk tag in Utah or Arizona, ride horses deep into the Frank Church or the Bob Marshall, or shell out enough cash to hunt on an Indian Reservation. If you're looking for another way, then going Elk hunting in New Zealand might be a perfect for you.
We have exclusive hunting rights on several massive sections of private land near the Southern Alps on New Zealand's South Island. This area contains some of the country's best Elk habitat and isn't far from the area around George Sound in Fiordland where the Rocky Mountain Elk (also known as Wapiti) President Theodore Roosevelt gave to New Zealand as a gift in 1909 were originally released. Not surprisingly, this land has a healthy Elk population with lots of big bulls and some of the best Elk hunting opportunities in the country.
Since we have exclusive access to such a large amount of outstanding Elk habitat on private land, we are able to keep the hunting pressure on the Elk very low. Our hunting areas also have very good road access, which allows us to cater to hunters with a wide range of abilities. As a result, we have very high success rates on Elk hunts on foot.
Not only do we have high success rates on our Elk hunts, but due to the high Elk populations, exceptional habitat, superior genetics, and the fact that we keep the hunting pressure very low, our hunters can be very selective and only harvest mature, and often record book quality bull Elk.
Over the past three years, we have a 100% success rate on our Elk hunts. The typical bull taken measures between 360″ and 400″ on the SCI scale.
Due to all of these factors, we offer a first rate Elk hunting experience that is truly in a league of its own. Have you always dreamed of hunting Elk in a low pressure situation on private land? Are you looking looking for a great chance at taking a monster bull Elk? Then book one of our outstanding Elk hunting packages.
Continue reading to learn more about our incredible Elk hunting in New Zealand.
New Zealand Elk Hunting Packages
The New Zealand Elk hunting packages listed below are valid for hunts booked in 2023 and 2024.
1×1 Trophy Elk Hunt
4 Days (3 Nights) Accommodation
We are currently fully booked for elk hunts for the foreseeable future.
Please note: we know every hunter is unique, so while you're welcome to hunt solely for Elk, all our Elk hunting packages are flexible. All of these packages may be upgraded with additional hunting days and/or big game animals at our normal daily rates and trophy fees listed below.
You'll be at a premier trophy hunting destination in the South Pacific with lots of opportunity to hunt other world class trophy animals. For this reason, we also offer several trophy big game hunting packages that allow our hunters to pursue Elk along with Bull Tahr, Alpine Chamois, and Fallow Buck. You're also welcome to hunt Arapawa Ram, Merriam's Turkey, Feral Goats, and Wild Boar on a trophy fee basis. Elk are an especially popular animal to pursue in conjunction with one of our excellent Red Deer hunting packages.
We can also arrange a trip to the North Island (which is just a short, 1.5 hour scenic flight away) to hunt Rusa, Sambar, and/or Sika Deer. If there is time remaining during your New Zealand hunting safari after you get your Elk trophy, we can also facilitate a fishing or wing shooting trip.
 New Zealand Elk & Red Stag Hunting Package
5 Days (4 Nights) Accommodation
We are currently fully booked for elk and stag hunts for the foreseeable future.
New Zealand Antler Hunting Package
5 Days (4 Nights) Accommodation
We are currently fully booked for the Antler Hunting Package for the foreseeable future.
We guarantee a reasonable shot on our Elk hunts and our lifetime success rate on our Elk hunting packages is over 95%. However, if you do not take an Elk (or any species listed in a package) on your hunt, you will receive a $3,000 refund per species not taken. Though every effort will be made to follow up and recover wounded animals, all animals wounded and not recovered will be charged full price.
We have scoped and suppressed rifles available for hunters who do not wish to bring their own rifles. For $150, we provide use of the rifle and appropriate ammunition for hunting Elk.
Daily Rates
1 Hunter × 1 Guide: $450 per hunter, per day
2 Hunters x 1 Guide: $350 per hunter, per day
Hunters 16 And Younger: $150 per hunter, per day
Non Hunter: $200 per person, per day
Why Should I Book An Elk Hunting Trip With You?
We have exclusive hunting rights to private land containing some of the best Elk country in New Zealand. This area is home to some very healthy Elk herds and has some excellent Elk hunting opportunities that few other hunting outfitters in North America or New Zealand can rival.
We book a limited number of hunts each year, abide by strict quotas, and carefully manage our hunting areas. This ensures that our hunters have high success rates and consistently harvest mature bull Elk.
No need to fight crowds on public land, worry about a permit application deadline, decipher complicated hunting regulations, or spend years accumulating bonus or preference points to draw a coveted elk tag.
We can accommodate rifle hunters as well as archery Elk hunters.
We are not a high turnover outfit. Instead, we focus on providing quality hunts with the best possible experience for each guest.
No hidden costs: our New Zealand Elk hunting packages include everything except for your air fare, taxidermy, and shipment of your trophies.
Our Hunting Guides are friendly, knowledgeable, and have many years worth of experience guiding Elk hunts.
We take pride in providing authentic Elk hunts with outstanding personal service before, during, and after your hunt. You will not have problems getting in touch us when and we'll be available to you through the entire process to provide assistance with anything you need related to the hunt.
Elk Hunting Accommodations
Hunters will stay in our hunting cabin in the central South Island of New Zealand. With running water and an outdoor toilet, accommodations are rustic, yet still comfortable. It's also well situated near the prime Elk hunting area to allow you to make the most out of your time in New Zealand.
Hunters going after additional species in addition to Elk hunt with other species like Red Stag or Himalayan Tahr will stay on our main hunting lodge when hunting the species other than Elk. The well apportioned hunting lodge is located between 5 and 40 minutes from our various hunting areas in the central South Island of New Zealand. With individual rooms, wifi internet, a communal dining room, an outdoor fireplace, and a miniature golf course the hunting lodge is the perfect location to relax after a hard day of Red Stag, Tahr, Fallow Deer, or Chamois hunting.
The accommodations are also perfect for non-hunting guests who want to come along to see some of the most beautiful places in the world and experience many of the other great things New Zealand has to offer. Though the majority of our hunters are from the United States or Canada, hunters from all over the world appreciate our good old fashioned Kiwi hospitality.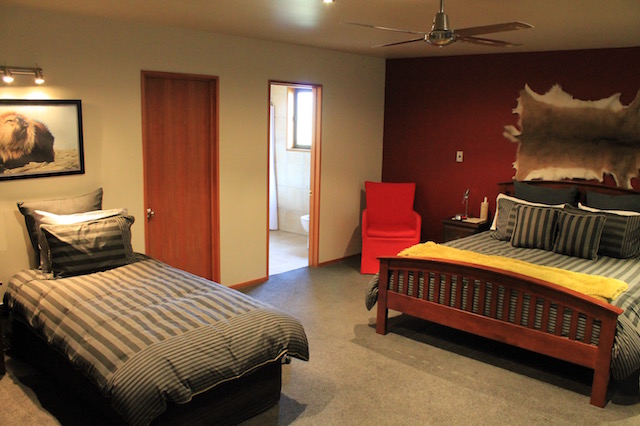 Best Time For Elk Hunting
While New Zealand does not have an official Elk hunting season, we conduct our Elk hunts each year from February through September and have a lot of success all year long.
However, similar to the other deer species present in New Zealand like Red Stag and Fallow Deer, the New Zealand Elk rut occurs during March and April. For that reason, those months are ideal for hunting Elk, particularly if you want to have lots of opportunities for calling and potentially harvest a bugling bull.
Additionally, our early season hunts in February and March prior to the rut are also fantastic. This is because those first few hunters of the year are pursuing Elk bulls that haven't been pressured in several months. Though the elk aren't bugling at that time of year, our early season hunts have similar success rates and hunters typically take elk of about the same size class as during the rut or during our late season hunts.
Best Caliber For Elk Hunting
Most of our Elk hunters use cartridges like the 7mm Remington Magnum, .30-06 Springfield, and the .300 Winchester Magnum. The Elk in New Zealand are known for their tremendous body size and can weigh up to 1,000 pounds. Due to their size and toughness, shot placement is extremely important when hunting Elk and they can go a long way when poorly hit. For this reason, we highly recommend bringing a rifle that you are familiar with and shoot accurately, even if it is chambered in a smaller caliber. Use high quality ammo and be prepared to take a shoot in the 50-250 yard range.
Check out this article to learn more about the ins and outs of elk hunting before your trip: Elk Hunting 101 [Ultimate Guide].
Elk Hunts Include:
Trophy Fee(s) For Listed Animals
Accommodation For Specified Number Of Days & Nights
Exclusive use of the hunting area
Services of a Hunting Guide
Transportation between Christchurch or Timaru Airport and hunting areas
Accommodation, food, and beverages
Reasonable quantity of beer and wine
New Zealand Goods and Services Tax
Skinning and field preparation of trophies
Delivery of trophies to a New Zealand based taxidermist and shipping company
Elk Hunts Do Not Include:
Gratuities for staff members
Taxidermy fees, expediting of trophies,
Crating and shipment of trophies
Export permits
Transport of trophies outside of New Zealand
Airline tickets
Personal, Travel and Trophy insurance
New Zealand rifle import license (NZ$25)
Rifle Rental