If you want to bring your own rifle to South Africa on a hunt, you must properly fill out the SAPS 520 form in order to obtain a temporary firearms import permit. Read on to learn how to fill out the SAPS 520 form.
The SAPS 520 form is used by the South African Police Service as an all-encompassing form for all sorts of firearm related transactions. However, the most common use of the SAPS 520 form is by visiting hunters applying for a temporary firearm import permit.
If you plan on bringing your own rifle to use while hunting in South Africa or plan on transiting South Africa, like for a Mozambique hunting safari, you must complete a SAPS 520 form. Since the form is used for so many different purposes, it is extremely long and can be confusing to fill out for the uninitiated. However, I promise you that filling out the SAPS 520 form is not as difficult as it seems at first.
At Big Game Hunting Adventures, we will assist you in the process of importing your rifles free of charge if you book a hunt with us. Send us your completed SAPS 520 form and the other required documentation at the bottom of this page and we will get your temporary firearm permit pre-approved to save time and hassle when you arrive in South Africa. Your professional hunter will also meet you at Johannesburg International Airport to ensure that the process goes smoothly.
Keep reading for step by step instructions on how to fill out the SAPS 520 form.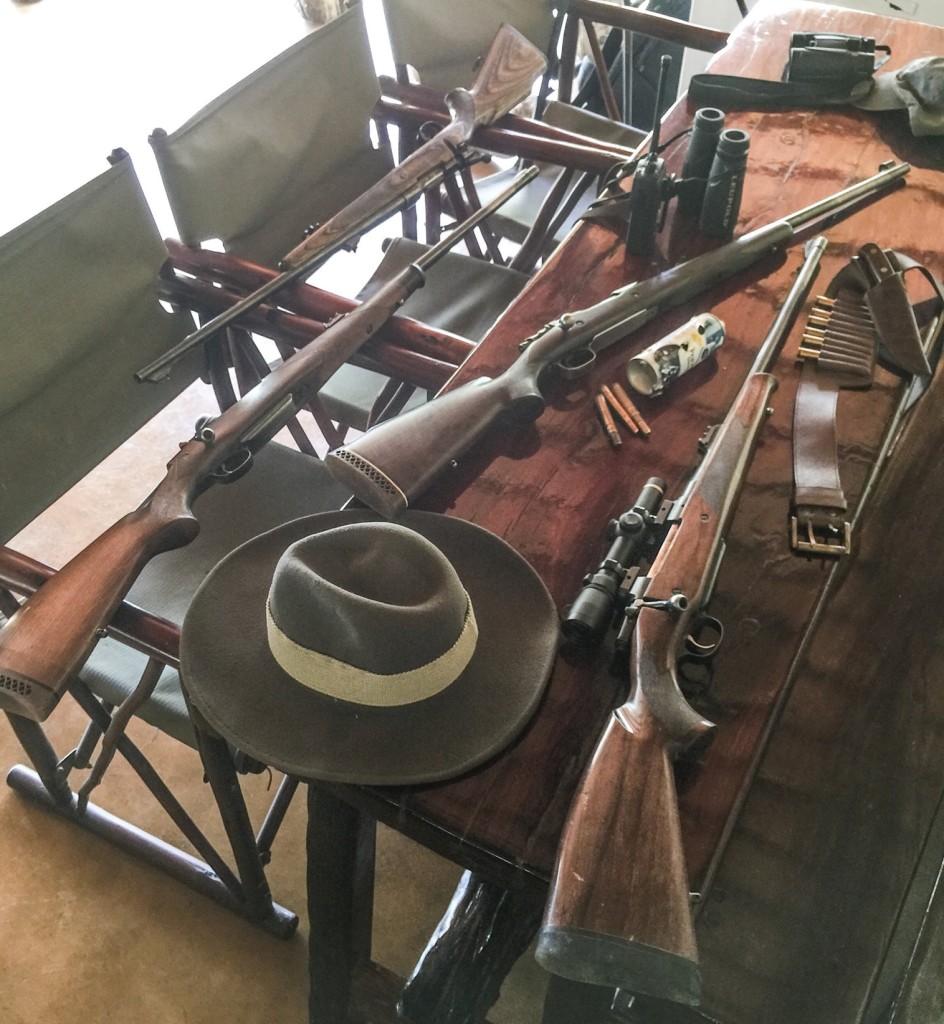 How To Fill Out The SAPS 520 Form
Download the SAPS 520 form from the South African Police Service web site and print it out. If you don't already have it on your computer, you will need to download and install the free Adobe Reader program first.
Not all sections apply to everyone. However, all 8 pages must be submitted together, even if some of them are blank.
Fill out the SAPS 520 form in

black ink

and enter all dates in the YYYY-MM-DD format (for example: 1900-01-13).
Leave everything on Page 1 blank.
Section D: If you will only be hunting in South Africa, check Block 5 (on the far right) "Temporary Import or Export Permit." If you will be hunting in another country, but transiting through South Africa, check Block  1 "Multiple import or export permit."
Section E: Check the "Passport" box in Block 2.1. Ignore Block 3 and fill out Blocks 4-24 with the appropriate information. Check the "Passport" box in Block 25.1.1. Ignore block 25.2. If you are married, fill out your spouse's passport number and name in Blocks 25.3 and 25.4, otherwise, leave them blank. You

must

fill in these blocks even if your spouse is not traveling with you. Ignore Blocks 26-47.
Section F: Fill in Blocks 2-13 (except for Block 5). Ignore Blocks 14-24. Fill in Blocks 26-33 (ignore Block 28).
Section G: Write your country of origin ("USA", "Canada", etc.)  in Blocks 1 & 2. Write "Johannesburg" in Blocks 3 & 4. Write "Hunting Safari With [NAME OF YOUR OUTFITTER]" in Block 5. Ignore Blocks 6 & 7. Write the dates you will be arriving and departing South Africa in Blocks 9.1 & 9.2.
Leave Section H blank.
Section I: Fill in the appropriate information in Sections 1.1-1.7 as well as 2.1.1 and 2.1.2 (the information in these boxes must match exactly with the rifles and ammunition that you actually bring to South Africa).
Fill out all of Section 4.
Fill out and sign in Section J

only

if you are submitting the permit to us for pre-approval. If you are not getting your permit pre-approved, sign the form when you arrive in South Africa and are in the presence of a SAPS officer at the airport.
You do not need to fill out anything else after Section J.
Remember: you need to submit all 8 pages of the SAPS 520, even the blank ones.
Additional Required Documents
US Customs Form 4457 – Certificate of Registration for Personal Effects Taken Abroad: You can download the form at the CBP web site here. This form is only required for American hunters. Prior to your hunt, go to a nearby CBP office with this form and your rifles. The agent there will verify that the serial numbers on your rifles match with those on the form and certify your form. The 4457 form will serve as proof of ownership for your rifles in South Africa and will also ensure that you are able to bring them back to the United States upon completion of your hunt.
Important: Make sure you have the most up to date version of the 4457. The South African Police will not accept an expired or out of date form. The new version of the form is functionally identical to older versions and the only differences between them are the issue and expiration dates. For this reason, many CBP offices use older versions of the form. To avoid any issues with getting your rifle permit approved for your hunt, please print out a copy of the most current 4457 from and get it certified by CBP.
Copy of your passport (photo and signature page). You must have at least two free pages in your passport and it must be valid for at least six months after your trip is scheduled to end.
Proof of ownership of the rifles you intend to bring on your hunt. The US Customs form 4457 serves this purpose for American hunters. Hunters from other countries should bring a copy of their firearms license.
Copy of your flight itinerary.
A letter of invitation from your outfitter. If you are hunting with us, we will provide it to you upon receipt of your deposit.
Fully automatic firearms and military firearms may not be imported into South Africa. Additionally, you may not bring two different firearms of the same caliber into the country.
There are lots of outfitters offering "cheap" or "discount" African hunts out there and hunters who book those sort of trips often get what they pay for. It should be a big red flag if you're booked with an outfitter who is not providing any assistance with your SAPS 520 form.
If you're booked on a hunt with us and have questions on how to fill out the SAPS 520 form, please contact us and we'll be happy to answer your questions.