Looking for some great black bear hunting in Alberta, Canada? Join us on one of our incredible Alberta bear hunts for a chance at a monster black bear.
Why should I book an Alberta bear hunt with you? With an estimated black bear population of over 35,000, Alberta has some of the best bear hunting available anywhere in North America. Our Alberta bear hunts take place in some of the best bear habitat in the province. We spend a great deal of time scouting prior to hunting season and carefully place our bait sites in only the absolute best locations. This means that, unlike many other bear hunting outfitters, every single one of our bait sites is a proven performer and gets a ton of bear traffic. You will likely see multiple bears each day and several dozen over the course of your hunt.
Additionally, we have exclusive hunting rights in this area and book a limited number of hunters each year, which keeps the pressure on the bears very low. For this reason, we had a 100% success rate on our Alberta bear hunts during the past three years. The typical bear taken measured over 6 feet long and weighed over 300 pounds. We can also offer the opportunity to take 2 bears on a hunt. Finally, color phase black bears ranging from cinnamon to blonde make up about 20% of the bear population in this area.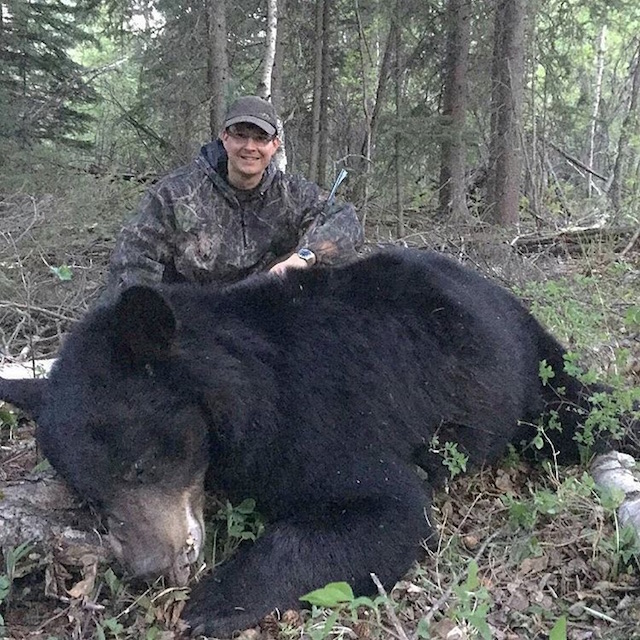 Due to all of these factors, we can offer a fantastic Alberta black bear hunting experience that few other outfitters can compete with. If you're looking for a high success Canada black bear hunt, then book one of our outstanding Alberta bear hunts. We put the time, energy, and experience into the hunt to ensure you have the best black bear hunt possible.
What is the cost of an Alberta bear hunt package with you? We are currently fully booked for 2022 and 2023, but aren't booking for 2024 yet. We charge $4,750 for our 2023 spring Alberta bear hunts. These hunts take place in a 2 bear area and hunters may shoot a second bear for an additional $1,250.
2024 Alberta Black Bear Hunt Dates
We are fully booked for 2024 spring bear hunts.
Alberta Black Bear Hunting Package
$4,750
We're fully booked for 2024
What is included in your Alberta Bear Hunts? All of our Alberta black bear hunts include:
8 Days Accommodation: 6 Full Hunting Days Plus 2 Travel Days
1 Black Bear
Add a 2nd Black bear for an additional $1,250
Transportation To And From Edmonton International Airport
All Accommodation, Food, & Beverages During The Hunt
Transportation In And Around The Hunting Area
Hunting License & Bear Tag
Field Preparation Of Bear Trophy, Hide, & Meat After Hunt
All Applicable Taxes
At the end of the hunt, all harvested bears will be field dressed, skinned, and quartered. The hunter is responsible for all shipping costs, meat processing, and taxidermy.
What methods do you use on your Alberta bear hunts? Baiting is legal in this part of the province, so our Alberta bear hunts are conducted over bait.
All of our bait sites are very carefully scouted and strategically located for the most bear traffic and to provide the best possible hunting. It's not uncommon for a half dozen bears to visit our bait sites in a single evening. Each bait site also has a trail camera. So, you will not hunt at a bait site that's not being regularly visited by a good quality trophy bear.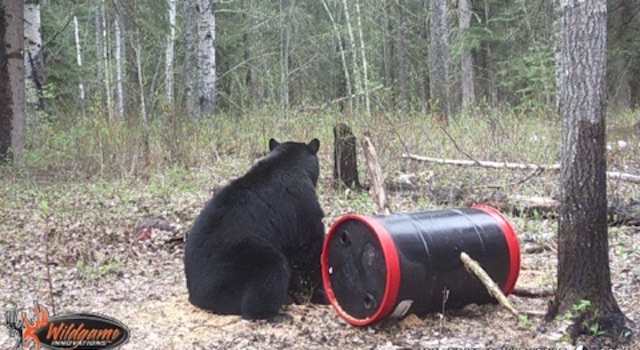 What is the average shot distance I can expect on your Alberta bear hunts? Since the woods around our bait sites are so thick, most shots taken on our Alberta bear hunts are often at relatively short range: 20-60 yards.
What is the best time of year for an Alberta bear hunt? We only offer bear hunts in Alberta during the spring season. However, since bears will readily come into baits after they finish hibernating, this is the best time of year to hunt black bears over bait.
We also only hunt during the absolute best weeks during the spring to ensure that our hunters have high success rates and take the biggest bears possible. Due to the cold temperatures and high amounts of snowfall in this area during the winter, the bears normally have fantastic coats during our spring hunts.
What rifle caliber do you recommend on an Alberta bear hunt? Since some of our bears can be so big and since they are often encountered in extremely thick terrain, it is extremely important that hunters use a cartridge powerful enough to quickly drop the bear. This will minimize the the tracking we will have to do as well as reduce the chances of wounding a bear and having it get away. With this in mind, we recommend using .308 Winchester or similar cartridge (when using premium bullets) as the minimum for our Alberta bear hunts. There is nothing wrong with using a larger, more powerful cartridge though, as long as you can place your shots accurately.
Can you accommodate archery hunters on your Alberta black bear hunts? Yes, bow hunters are welcome on our black bear hunts in Alberta. Our bait sites are set up at close range and in such a manner to give bow hunters the best opportunity to make a clean shot on a broadside bear.
Where do your Alberta bear hunts take place? We conduct all of our black bear hunts just to the west of Drayton Valley, Alberta, which is about two hours to the west of Edmonton and an hour and a half east of Jasper National Park.
What are the accommodations like on your Alberta black bear hunts? All of our black bear hunters sleep on cots in big outfitter tents. Though it's not normally very cold on these hunts, we do have stoves we can use to warm the tents at night if temperatures get low enough. We also have a travel trailer with bathroom and cooking facilities that we keep in camp.
You will eat like a king and sleep like a rock on your Canada black bear hunt with us.
Alberta Bear Hunting Booking Policy
A $2,000 deposit is due at booking and the balance of the package is due upon arrival. If you want a second bear, the fee for the second bear is due in advance and is non-refundable.
To learn more about booking an incredible Alberta bear hunt with us, simply click the "Get More Information" button below. You'll be taken to a contact form on the next page where you can enquire about availability for particular dates and ask any questions you may have about our Alberta bear hunts.