Looking for great trophy waterbuck hunting in South Africa? We have some of the best and most affordable waterbuck hunting available in the entire country.
Why should I go Waterbuck hunting with you? If you book with us, you'll hunt Waterbuck in South Africa's Mpumalanga and Limpopo Provinces. These areas have great Waterbuck habitat and produce some absolutely monster Waterbuck bulls. We have exclusive hunting rights on all our hunting areas and carefully manage the wildlife populations for outstanding trophy quality. In keeping with these management practices, we abide by strict quotas and only book a limited number of Waterbuck hunts each year.
For these reasons, we have very high (over 90%) success rates on our Waterbuck hunting safaris shoot some gigantic bulls each year. Over the past three years, the typical bull that clients take Waterbuck hunting with us measures 28-29″. Bulls that size very, very nice trophies. We've also taken several Waterbuck measuring in excess of 31″ during the past few years and Waterbuck that size are incredible specimens.
Additionally, by booking with us, you'll enjoy a truly authentic African safari with exceptional personal service. We do not use outside PHs and we only book one hunting party at a time, so you'll have exclusive use of the hunting area during your trip.
Due to all of these factors, we can provide an incredible Waterbuck hunting experience that few other outfitters can match. If you've always dreamed of hunting one of these magnificent creatures in the South African bushveld, then you need to book one of our Waterbuck hunts. 
What Waterbuck hunting methods do you use? The vast majority of our Waterbuck hunting is conducted via walk and stalk. We drive until find a recent track crossing the road that is big enough and then follow on foot. Another common tactic is to slowly walk through areas containing known food or water sources while on the lookout for animals moving through the area.
How much does a Waterbuck hunting safari in South Africa with you cost? For the 2024 hunting season, our trophy fee for Waterbuck is $2,700.
When do you do your Waterbuck hunting? While we hunt Waterbuck virtually all year round our best Waterbuck hunting is between January and August, and April through June in particular.
What is the average shot distance when Waterbuck hunting? Shot distances on Waterbuck can vary. When encountered in thick brush, shots can be as close as 50 yards. However, that distance can increase to over 150 yards if they are encountered in an open grassy area.
What is your average trophy size of Waterbuck taken in South Africa when hunting with you? The average bull taken when Waterbuck hunting with us measures 28-29″. During the past 3 years, we've also taken several waterbuck in excess of 31″ (including the 2 bulls below). Bulls that size are truly massive and are big enough to rank in the Top 50 biggest Waterbuck of all-time in the SCI record book.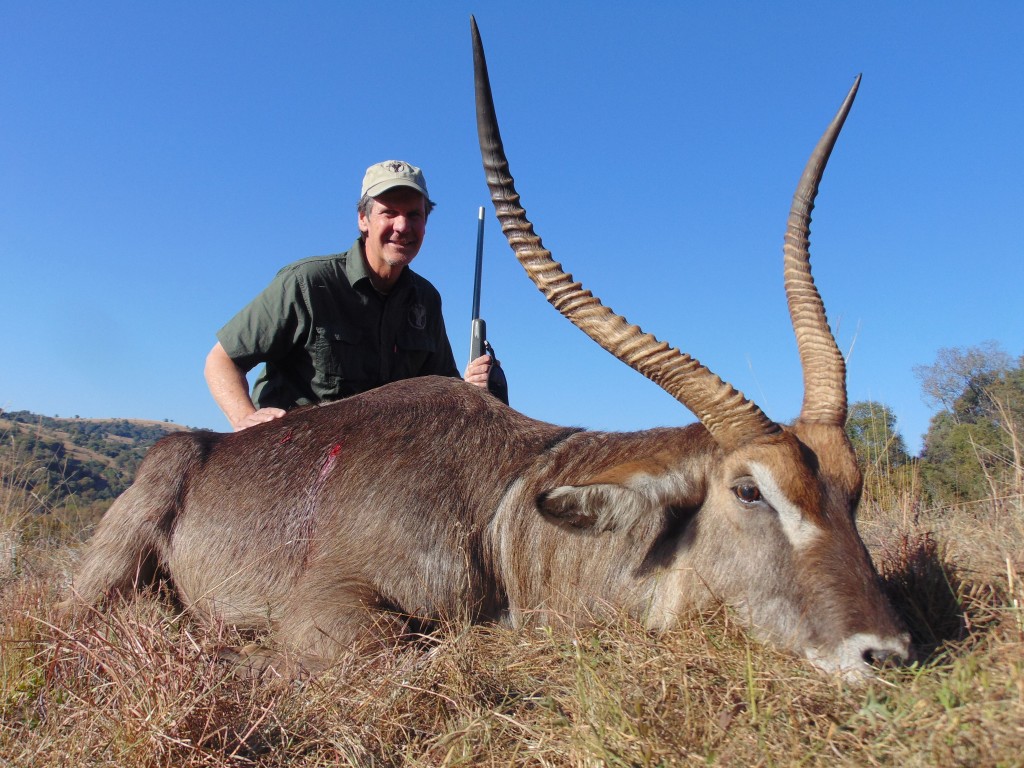 What is the best rifle caliber for Waterbuck hunting? Like Kudu, Waterbuck are not particularly tough animals. However, they are big enough that, for most situations, I consider cartridges such as the .270 Winchester to be on the light side for Waterbuck hunting. Instead, I recommend cartridges such as the .308 Winchester, .30-06 Springfield, .300 Winchester Short Magnum, and .300 Winchester Magnum. If using heavy, controlled expansion bullets, all of those cartridges will work very well when Waterbuck hunting. There is also absolutely nothing wrong with using larger cartridges such as the .375 H&H and .416 Rigby when Waterbuck hunting.
What is the best recommended Waterbuck shot placement? Though they aren't extremely tough animals, shot placement is still very important when Waterbuck hunting, as a wounded Waterbuck can really make for a long day. I recommend a traditional shoulder shot whenever possible. When the animal is standing broadside, simply aim at the center of the shoulder, approximately one third of the way up the body.
Remember to adjust your aiming point accordingly if the Waterbuck is quartering towards or away from you (aim slightly forward if it is quartering towards you and slightly to the rear if it is quartering away).
Waterbuck Scientific Name: Kobus ellipsiprymnus
How do you distinguish males from females when Waterbuck hunting? Luckily, Waterbuck are another one of those animals that sex differentiation is pretty easy with. As you can see in the photos below, males can be identified by the presence of horns, which females lack.

If you're interested in going Waterbuck hunting in South Africa with us, please contact us for more information or to book your hunt.