Looking for a top end Water Buffalo hunt in Australia? We have some of the best free range Water Buffalo hunting available anywhere in the world.
Update January 2023: New Zealand and Australia were closed to tourists from most countries for all of 2020 and 2021 due to COVID. So, we still have a gigantic backlog of rescheduled hunts that we're working through. For that reason, we're not booking any new hunts or responding to any enquiries about hunting in Australia or New Zealand in the future until we get that cleared up.
Why should I hunt Water Buffalo hunt with you? We have exclusive hunting rights on over 2 million acres of pristine aboriginal land in the East Arnhem Land region of Australia's Northern Territory that's home to Australia's premier big game animal in the Water Buffalo. This part of the country is extremely remote and contains a thriving Water Buffalo population. Not surprisingly, this country also has some of the best Water Buffalo hunting opportunities anywhere in the world.
Since we have exclusive access to such a large amount of outstanding Water Buffalo habitat, we are able to keep the hunting pressure on the buffalo very low. Our hunting areas also have very good road access, which allows us to cater to hunters with a wide range of abilities. As a result, we have very high success rates on our Water Buffalo hunts on foot.
Over the past three years, we have a 95% success rates on our Water Buffalo hunts.
Not only do we have high success rates on our Water Buffalo hunts, but due to the high Water Buffalo populations, exceptional habitat and the fact that we keep the hunting pressure very low, our hunters can be very selective and only harvest mature buffalo bulls. This is the perfect opportunity to take a trophy buffalo of a lifetime.
Due to all of these factors, we offer an incredible Water Buffalo hunting experience that is truly in a league of its own. Have you always dreamed of hunting dangerous game in one of the most remote locations left on earth? Are you looking looking for a great chance at taking a monster Water Buffalo? Then book one of our top end Water Buffalo hunting packages.
Continue reading to learn more about our incredible Water Buffalo hunting in Australia.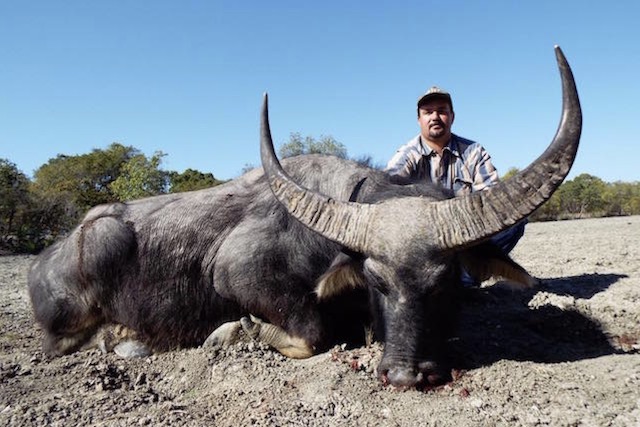 Australia Water Buffalo Hunting Packages
Trophy Water Buffalo Hunt
6 Days (5 Nights) Accommodation
We are currently fully booked for trophy water buffalo hunts for the foreseeable future.
Management Water Buffalo Hunt
5 Days (4 Nights) Accommodation
We are currently fully booked for management buffalo hunts for the foreseeable future.
Banteng Hunt
6 Days (5 Nights) Accommodation
We are currently fully booked for banteng hunts for the foreseeable future.
Banteng/Buffalo Combo Hunt
8 Days (7 Nights) Accommodation
We are currently fully booked for banteng/buffalo combo hunts for the foreseeable future.
While you're welcome to hunt solely for Water Buffalo, you'll be at a premier hunting destination in the South Pacific with lots of opportunity to hunt other world class trophy animals. For this reason, we also offer hunting for Wild Oxen (not to be confused with a scrub bull), Wild Boar, and Banteng. We can also combine your Australian Water Buffalo hunting trip with big game hunting on the North or South Islands of New Zealand for Red Stag (Red Deer), Tahr, Elk (Wapiti), Chamois, Fallow Deer, Rusa Deer, Sambar Deer, and Sika Deer. If there is time remaining during your Australia hunting safari after you get your Water Buffalo trophy, we can also facilitate a world class Barramundi fishing trip at no extra charge.
Australia Water Buffalo Hunting Trophy Fees
We guarantee a reasonable shot on our Water Buffalo hunts and our lifetime success rate on our Water Buffalo hunting packages is over 95%. However, if you do not take a buffalo on your hunt, you will not be charged the trophy fee. Though every effort will be made to follow up and recover wounded animals, all animals wounded and not recovered will be charged full price.
We have rifles available for hunters who do not wish to bring their own rifles. For $150, we provide use of the rifle and appropriate ammunition for hunting Water Buffalo.
Water Buffalo Hunts Include:
Trophy Fee for 1 Trophy Water Buffalo Bull (Trophy Package)
Trophy Fee for 2 Management Water Buffalo Bulls (Management Package)
6 Days (5 Nights) Accommodation (Trophy Buffalo or Banteng Package)
5 Days (4 Nights) Accommodation (Management Buffalo Package)
8 Days (7 Nights) Accommodation (Buffalo/Banteng Combo Package)
Exclusive use of the hunting area
Services of a Hunting Guide
Transportation between airport and hunting areas
Accommodation, food, and beverages
Reasonable quantity of beer and wine
Laundry service during the hunt
Wifi internet at lodge
Skinning and field preparation of trophies
Delivery of trophies to a Australia based taxidermist and shipping company
Water Buffalo Hunts Do Not Include:
Gratuities for staff members
Taxidermy fees, expediting of trophies,
Crating and shipment of trophies
Export permits
Transport of trophies outside of Australia
Airline tickets or Plane charter
Personal, Travel and Trophy insurance
Australia rifle import license
Rifle Rental
Why Should I Book A Water Buffalo Hunting Trip With You?
We have exclusive hunting rights to over 2 million acres containing some of the best Water Buffalo habitat in Australia.
We book a limited number of hunts each year, abide by strict quotas, and carefully manage our hunting areas. This ensures that our hunters have high success rates and consistently harvest mature Water Buffalo.
We are not a high turnover outfit. Instead, we focus on providing quality hunts with the best possible experience for each guest.
No hidden costs: our Australia Water Buffalo packages include everything except for your air fare, taxidermy, and shipment of your trophies.
Our Hunting Guides are friendly, knowledgeable, and have many years worth of experience guiding Water Buffalo hunts.
We take pride in providing authentic Water Buffalo hunts with outstanding personal service before, during, and after your hunt. You will not have problems getting in touch us when and we'll be available to you through the entire process to provide assistance with anything you need related to the hunt.
Best Time For Water Buffalo Hunting
Our Water Buffalo hunting season stars at the end of the wet season in June and runs through October each year.
Best Caliber For Water Buffalo Hunting
Water Buffalo are extremely large animals and big bulls can tip the scales at over 1,500 pounds. They are also incredibly tough. While they are not as aggressive as African Cape Buffalo, they are still dangerous game and Water Buffalo charges can and do occur. For these reasons, you should give Water Buffalo the highest level of respect and be appropriately gunned when hunting Water Buffalo.
We recommend that our hunters use a rifle chambered in .375 H&H or .375 Ruger at the minimum. The .416 Rigby, .458 Winchester, and .458 Lott are also excellent cartridges for Water Buffalo Hunting. Typical shooting ranges are 50-100 yards.