Looking for great trophy Kudu hunting in South Africa? We offer some of the best and most affordable Greater Kudu hunting available in the entire country.
Why should I go Kudu hunting with you? If you book with us, you'll hunt Kudu in South Africa's Mpumalanga and Limpopo Province. These areas have excellent Kudu habitat and are known for having some of the best Kudu hunting in all of southern Africa. We have exclusive hunting rights on all our hunting areas and carefully manage the wildlife populations for outstanding trophy quality. In keeping with these management practices, we abide by strict quotas and only book a limited number of Kudu hunts each year.
For these reasons, we have very high (over 90%) success rates on our Kudu hunting safaris shoot some monster Kudu bulls each year. Additionally, by booking with us, you'll enjoy a truly authentic African safari with exceptional personal service. We do not use outside PHs and we only book one hunting party at a time, so you'll have exclusive use of the hunting area during your trip.
Due to all of these factors, we can provide an incredible Kudu hunting experience that few other outfitters can match. If you've always dreamed of hunting the legendary "grey ghost"  in the South African bushveld, then you need to book one of our Kudu hunts.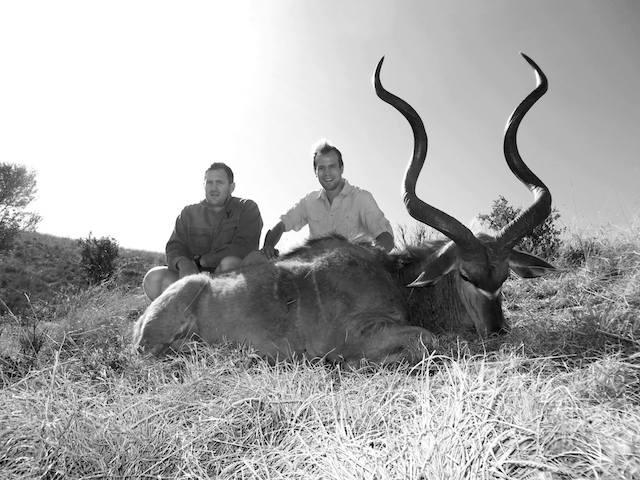 What Kudu hunting methods do you use? The vast majority of our Kudu hunting is conducted via walk and stalk. We drive until find a recent track crossing the road that is big enough and then follow on foot. Another common tactic is to slowly walk through areas containing known food or water sources while on the lookout for animals moving through the area.
How much does a Kudu hunting safari in South Africa with you cost? For the 2024 hunting season, our trophy fee for Kudu is $3,000. Kudu hunting safaris are one of our most popular hunts. Because of this, we have several hunting packages (especially the "Bushveld" package), that provide an outstanding opportunity to hunt kudu along with some of our other popular species of plains game at a reasonable price.
When do you do your Kudu hunting? Kudu are another species that may may be successfully hunted virtually all year round. However, like Impala, May through November are the best months for Kudu hunting in South Africa with us.
During this time, there is much less vegetation present, which is allows for great visibility out in the bush. Additionally, there are fewer water sources and the Kudu tend to be more concentrated near reliable water sources. Due to the fact that we have carefully managed our land, we have excellent year round sources of food and water on our main Kudu hunting area in Limpopo Province that attract Kudu from miles around.
As a result, hundreds of Kudu migrate onto this land from surrounding areas at the height of the dry season. Because of these factors, the months of August September, October, and November are when we traditionally our very best months for Kudu hunting and are when we take our biggest bulls.
What is the average shot distance when Kudu hunting in South Africa? Since most of our Kudu are found in areas of moderate to thick vegetation, this allows the hunter to approach to within a reasonable distance before shooting. Due to this, the average shot distance when Kudu hunting is around 50-150 yards. However, you should be prepared to take a longer range shot whenever you are Kudu hunting, because you might only get one shot at that monster Kudu of your dreams.
What is the best rifle caliber for Kudu hunting? Kudu are not particularly tough animals, but with mature bulls weighing between 500 and 600 pounds, they are pretty big. The .270 Winchester and 7mm Remington Magnum have both been used on many successful Kudu hunting safaris in Africa, and both will work well if using high quality bullets. However, the .308 Winchester and .30-06 Springfield are probably better all around choices. The .300 Winchester Short Magnum, .300 Winchester Magnum, and .338 Winchester Magnum will also work well, but they are not strictly necessary unless hunting in an area where long range shots on Kudu are likely.
As always, there is nothing wrong with using larger calibers such the 9.3x62mm Mauser, or .375 H&H Magnum when Kudu hunting. There is no such thing as being "over gunned" and it would be nice to have a little extra power on your side if you get a shot on that monster 60″ Kudu of your dreams.
What is the best recommended Kudu shot placement? Shot placement when Kudu hunting is very important: you won't get many good shots on these elusive animals, so it's best to make the most of the ones you do get. Fortunately, Kudu aren't nearly as tough as Cape Buffalo or Blue Wildebeest and will not go far if hit properly. It is almost always best to attempt a traditional shoulder shot on a Kudu. When the animal is standing broadside, simply aim at the center of the shoulder, approximately one third of the way up the body.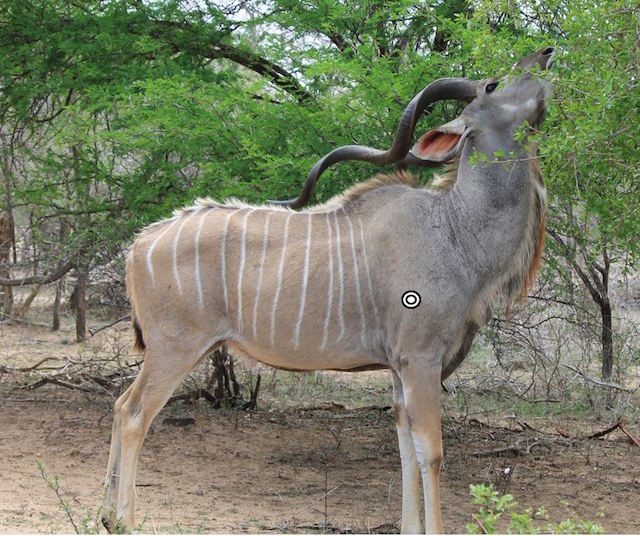 Remember to adjust your aiming point accordingly if the Kudu is quartering towards or away from you (aim slightly forward if it is quartering towards you and slightly to the rear if it is quartering away).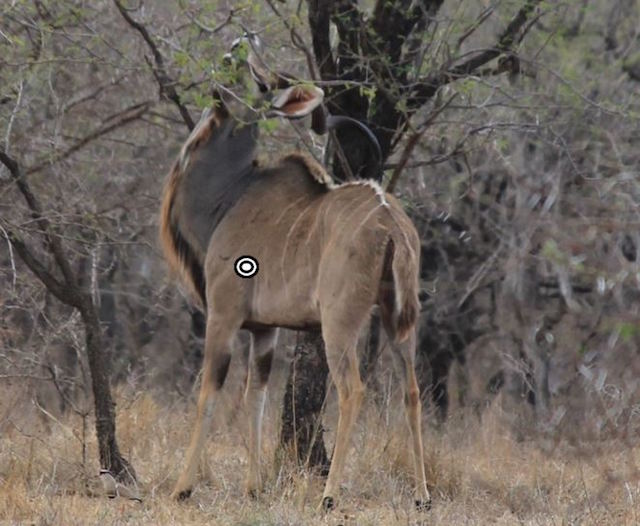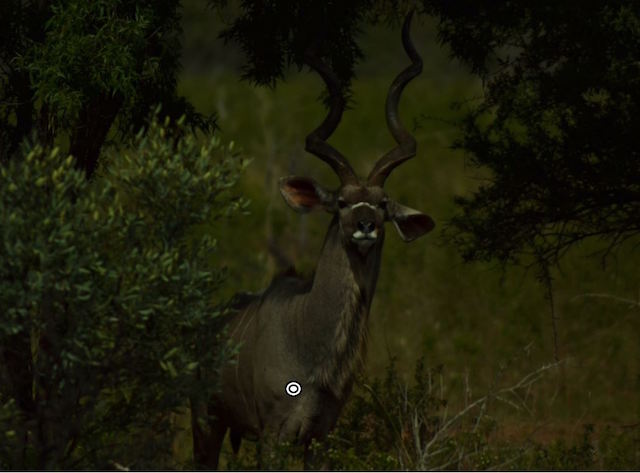 Greater Kudu Scientific Name: Tragelaphus strepsiceros, also known as the Grey Ghost
What is the Southern Greater Kudu Rowland Ward minimum? Rowland Ward ranks kudu by measuring the length of the longest horn around the spiral. A Southern Greater Kudu must have a horn at least 53 7/8″ (137cm) long to qualify for the Rowland Ward record book.
What is the Southern Greater Kudu Safari Club International (SCI) minimum? SCI scores kudu by measuring the length of each horn around the spiral and the circumference of each horn at the base. All 4 measurements are then added together for a total score. A Southern Greater Kudu must score at least 121″ (307cm) to qualify for the SCI record book (bronze medal), 125 4/8″ (319cm) for a silver medal, and 131 1/8″ (333cm) for a gold medal. The horn length necessary to meet the minimum score for each SCI medal varies depending on the length of the shorter horn and the horn circumferences. However, a kudu with 50-51″ horns will often meet the SCI minimum, one with 52-53″ horns will usually meet the threshold for a silver medal, and one with 54-55″ horns will usually meet the threshold for a gold medal.
How do you distinguish males from females when Kudu hunting? Fortunately, male and female Kudu are very easy to tell apart when Kudu hunting, as you can see in the photos below. Though they are similar in color, only males (below) have horns.

They are also noticeably bigger bodied than females (below).


Why do kudu have spiral horns? Kudu are very sought after trophies for hunters partially due to their long, spiral horns. These horns have several roles.
Though you might think so at first, self-defense is probably not one of the main reasons why kudu bulls have horns though.While they would certainly work in that role, kudu rarely use their horns for defense from predators and they almost always choose to run or hide to escape predation.
Instead, kudu use their horns for a couple of other purposes.
First, similar to how many species of deer use their antlers, kudu bulls spar with each other using their horns each year during the rut for breeding rights to any kudu cows in the area.
Second, as you can see in the photos below, kudu bulls can also use their horns to help reach leaves on limbs that would otherwise be out of reach.

If you're interested in going Kudu hunting in South Africa with us, please contact us. We'll get back to you as soon as possible, usually within 24 hours.